When I was single, you could guarantee at least two items in my fridge: eggs and hot sauce. I never cooked for myself. And when I did, it didn't taste very good.
There's something about having a big open kitchen with lots of counter space (plus a fancy Kitchen Aid mixer) that just makes me want to cook.
David is often in charge of the meat while I struggle to come up with sides that he'll enjoy. I'd be happy with roasted vegetables every day, but he is meat and potatoes.
Here are a few recipes I tried this week that received rave reviews:
Zucchini Fritters via TheHealthyFoodie.com
I loved these, even cold. Great use for zucchinis outside of my regular grill or roast routine.
In my muffin tin, I made half regular potato stacks and half sweet potato stacks with the same salt/pepper/thyme. I don't have a mandoline (or other fancy slicer), so I just cut the potatoes as thin as possible and cooked them a tad bit longer.
This weekend, I'm giving this recipe another spin, but this time with a few habanero peppers  (we love spicy!) and House Autrey's yellow corn meal. My dad is a cornbread expert and swears by House Autrey.
I have a special place in my heart for baked oatmeal. When I was in high school, my friend Katie and I used to hit the gym for 6 a.m. weight workouts with her mom, who was a personal trainer. We would go back to her house to get ready, and she would have warm baked oatmeal ready for us for breakfast.
I skipped the raspberries in this recipe, subbed vanilla soy milk and added some homemade granola I had on hand. I particularly like the use of bananas in this recipe. Next time, I'll use a smaller (better?) pan and add some flax and chia seeds.
Brie and Apricot Chicken from Peanut Butter Runner
So easy and delicious! This was a crowd-pleaser at dinner the other night. Jen has lots of great recipes, so definitely peruse Peanut Butter Runner and Bakin and Eggs. It's been requested that I make her Beer Bread again soon.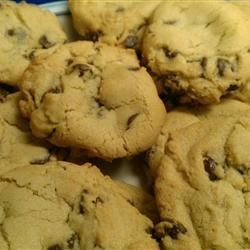 Holy crap. These are so delicious, it's dangerous. I made triple chip cookies this week – with semi-sweet chocolate chips, white chocolate chips and peanut butter chips.
Nom, nom, nom.
If you have any favorite recipes, please share them with me so I can try 'em!